Last year we were bitten by the travel bug when we went on our delayed honeymoon to Costa Rica. After that trip we vowed to go somewhere new at least once a year.
As the winter months drug on & on we decided there was no better time and booked a trip to Jamaica. Our previous trip was 7 days which was too long to be away from the kids, so we settled on 4 nights/5days. We left early Friday morning and after a chain of comical events, landed in Jamaica a little before 1:00 p.m. We stayed in a town called Runaway Bay which allowed us to take in the local scenery during our hour long drive to the resort.
Up until now, I had never experienced blue-green water and it definitely did not disappoint. The weather was a beautiful 80 degrees, a vast difference from the below zero temps we left behind. Our room at Grand Bahia Principe wasn't ready for check-in so we walked down to the beach. At the very end of our walk we were delighted to find a full bar overlooking the waves. Just as we sat the clouds rolled in and the rain poured down. Our last trip started with rain and that ended well so we weren't overly discouraged.
Since we were in Jamaica, it only seemed fitting that we went bobsledding while there, so the next day we set out on our first excursion to Mystic Mountain. We didn't really know what to expect other than we were going to fly down the mountain in bobsleds connected to a metal track. We made our way up via a sky car overlooking the forest and ocean, which was absolutely stunning! Once we got to the top we were met with even more activities than we expected. There was a hummingbird garden, a museum, an infinity pool complete with water slide and a restaurant perched at the very top. As expected we did fly down the mountain in the bobsleds, rounding the tight corners at speeds faster than recommended. After partaking in all that was offered we made our way back down the sky car in the pouring rain.
While we had a great time, I was really looking forward to our Day 3 activities. Dunn's River Falls is a popular tourist attraction that lets you walk from the bottom of the falls all the way to the top by climbing the rocks through the water. After an hour & a half of frigid cold, crystal clear water we hiked all the way to the top and we were off to the main event-swimming with the dolphins!
I have always wanted to swim with the graceful animals and could barely contain my excitement. With the sun hiding behind the clouds, we entered Dolphin Cove where we got up close & personal with sharks, iguanas, parrots, & stingrays. After meeting all the other animals it was our turn to enter the water with the dolphins. We swam with two different dolphins and got to touch them, ride on their bellies and ended with a kiss. They were amazing and felt like rubber to the touch.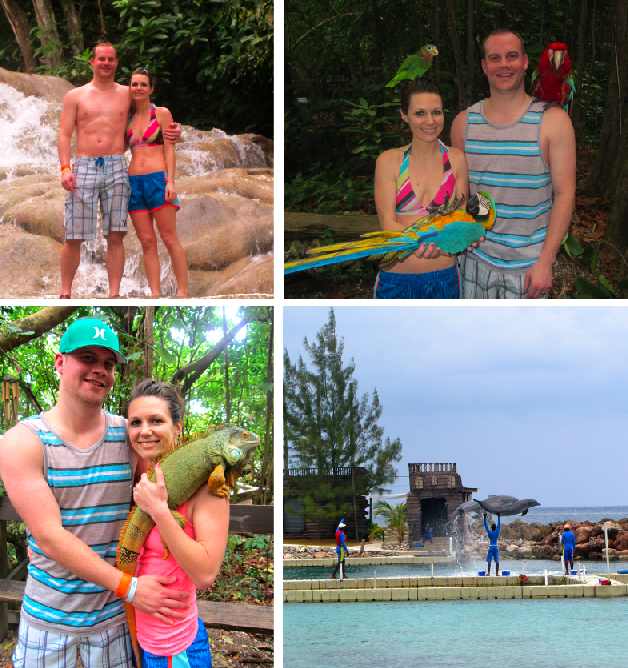 Since Tuesday was spent traveling, Monday was our last day on the island. We hadn't seen much sun and were looking forward to relaxing so we spent the majority of the day next to the ocean on the beach. We found the kids plenty of seashells and got more than enough sun (ouch)!
What a great vacation! I'm so glad we took the time to get away and discover more of the world together. I'm happy to get back home with our kiddos and can't wait until they are big enough to go along and experience some of their firsts!
(Please ignore the photo quality, I didn't take the time to scan them)