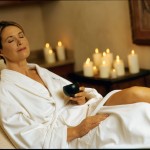 As my last post vaguely mentioned, I decided that there was no better time to quit my job. I wasn't in love with the role and life is too short to spend every day doing something you're not happy with. That means I have been enjoying some funemployment for the last two weeks. Going in I envisioned my time off looking something like this ——->
I have a hard time doing nothing, so of course I have been keeping a journal of the things I'm accomplishing each day. On Day #1, I allowed myself to just sit on the couch, to drink my coffee and fill my brain with a ton of things I wanted to do with my time.  I made a list (duh) and felt energized to get things done!
Day #2 Will was running a fever so we stayed home together. While we were playing in the office (read, Toy Room) I decided I could no longer take the chaos and decided to purge and reorganize. Man did that feel good after it was done. Day #3 I was lucky enough to grab lunch with a dear friend at my favorite pizza joint, Porta Alba. This is no joke – if you live in, around or near Madison, you MUST go there. (Side note: I always order the Vegitariana pizza and it's to die for!) This sounds so cheesy, but it was nice to spend time as just the two of us. Normally we have our kiddo's & husbands in tow, making conversation more challenging.
Day #4 started with a visit to my hair stylist, who is one of the most talented & caring people I know. I love visiting her and this time was extra special because I learned she is expecting her first baby! I was then off to another great lunch date with three very close friends. I've decided that I'm never finding a job and will become a lady who lunches.  I haven't figured out how to pay for those lunches but that's not of importance! I spent the rest of the afternoon evaluating insurance plans (yuck)! Since that was no fun (understatement of the century) I decided to pick Ella up from school early and finally make our closed terrariums. Let's hope they are as low-maintenance as they say!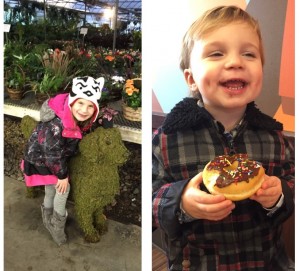 Day #5 I decided it was time to get down to business. Yes, I still had a lunch date with an old coworker, but I also cleaned and purged more of the house. Day #6 we had no school or daycare so it was me & the kiddo's again. Ella was invited to a friends house for a playdate and had a blast. Will and I decided we would go for donuts, visit the pet store and grab lunch with dad. Day # 7 started out with some pampering, as I decided to give myself a manicure I saw on Pinterest. I then spent the rest of the day doing some real "work" for Kella Design.
Day #8 yet again included a lunch date with a great new friend. It was so much fun to chat with her and it turns out we both have something in common, we're raising an extremely challenging and spirited 6 year old little lady! I can't tell you how nice it is to find someone who can totally relate to what it's like to parent someone like Ella. The constant struggle to "get her under control" all while trying to not squash her "spirit." Day #9 was originally jam packed with meetings, but of course my OCD-self was starting to feel stressed that I hadn't accomplished enough of the projects from my list, so I cleared my schedule. The morning started with some baby shower planning (my brother & SIL are expecting twins!!) and then quickly moved to house projects. We have been in a process of painting ALL of the trim in our house and had yet to tackle the trim in Ella's room. This is when I was quickly reminded why I don't normally paint my nails. So much for the manicure! I then did laundry, cleaned and purged the kids bedrooms and made an amazing dinner (again).
That brings me to Day #10, today! Ella has early release and she's decided that she wants to spend it with mom. Turns out that no matter how much fun she had at her playdate, she's extremely jealous of Will's one-on-one time with mom. So we're repeating the same day that Will & I had.
The days haven't gone exactly as I planned and they definitely do not look like the peaceful spa image, but I have enjoyed them nonetheless. After looking at the journal, I feel like I have done a good job at balancing my time with a little pampering, a lot of productivity, projects crossed off the list, some great homemade meals and quality time spent with family & friends. I'm not entirely sure how much funemployment time I have left, but yesterday we got a healthcare bill in the mail and as Ella opened it she said, "wow, that's a lot – mom, you better get back to work and make some money!" So I plan to continue to fill the days with as much as I possibly can because I'll likely not get a chance like this again.