As I've mentioned many times before, the project list in this house is never-ending. So when we had the chance to send the kiddo's off to Grandma & Grandpa's for the weekend – we jumped at it, in hopes that we'd be able to knock some things off the list. We worked very hard, I swear, but there's not a whole lot to show for it!
We started Friday night by moving our island in the kitchen. It was an easy decision to make since it wasted a lot of space before. It's a small change, but it made a major difference when it comes to functionality. We now have way more space at the kitchen table and the flow through the house is so much better. It's hard to show just how much of an impact it makes in a photo (especially with furniture in the way), but here's an idea. On the left is the before and the right is the after.

This photo also shows a few other projects in the works. We replaced & centered the light over the table a few weeks back with a modern drum pendant. We absolutely love the embroidered pattern and while the old one was nice quality, it just wasn't our style.
In the next few weeks, we plan to paint our kitchen cabinets white. Quite a few people have asked us why we chose white or didn't want to keep the wood. Trust me, I love natural wood and it was hard for me to paint over it, but it's just so orange looking that I couldn't handle keeping it that way. I believe it's technically called Golden Oak and while I love me some gold, it does not work in our space – plus, we just prefer white.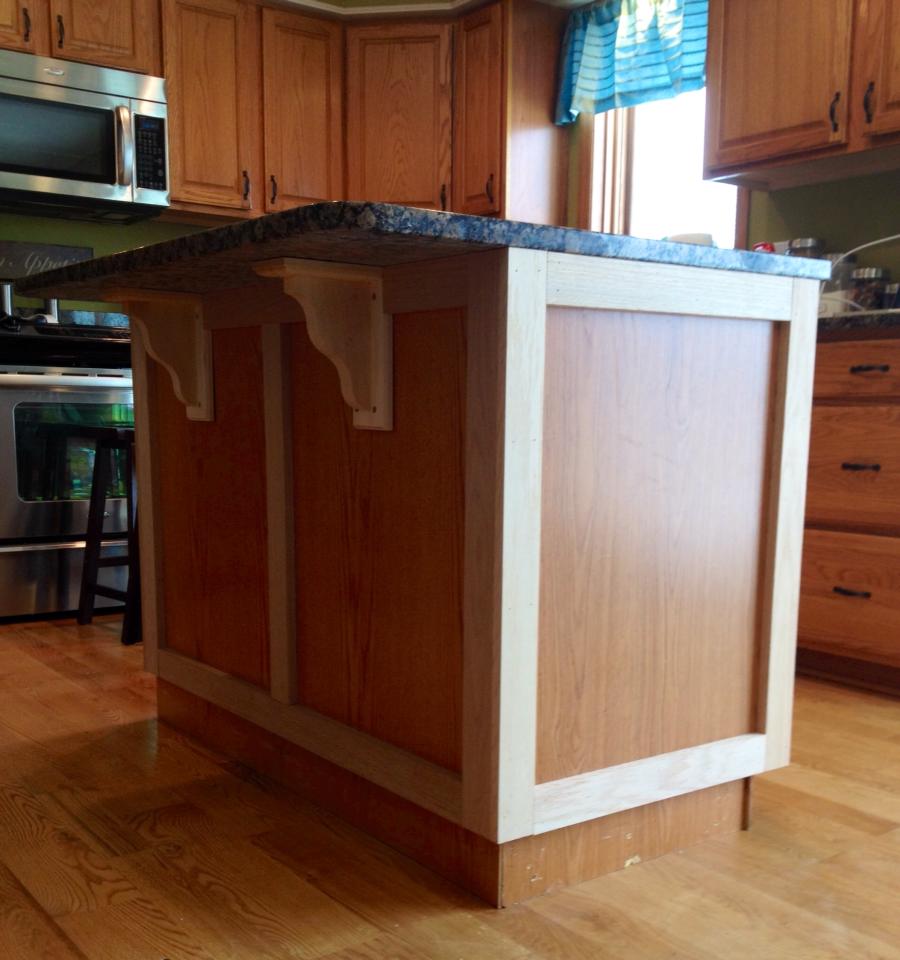 We decided that we'd like a more customized look so we decided to frame out all of the cabinets and island. You can see the unfinished oak in the picture above. I'm sort of a perfectionist so living with it looking like that for a few weeks might kill me, but I'll try to cope. Here's a close up shot of the island. It still needs to be wrapped on the bottom & baseboard added, but it's going to look GREAT once it's painted a greige color to match the backsplash.
Speaking of backsplash…once we're done with the cabinets we plan to add an ice subway tile backsplash. I love the look of those tiles, but I don't necessarily love that they typically have to be installed individually and they are a little hard on the wallet. However, I hit the jackpot at Menards and was able to find a special purchase that was the exact color I was hoping for, sold in sheets and super cheap! They even had enough in-stock for our fireplace.
You might have also noticed that we've started the transition of our old desk area into a bar area to make it a more usable space. Don't worry, we're not alcoholics, but who uses those desks anymore? It's hard to see in the photo, but we plan to remove the drawer (and my pretty blue chair) and insert a beverage fridge in that space. We measured the opening and started by trying to find a fridge that was the perfect size, but those were all too expensive. We then turned our brains on and realized that instead of trying to make the fridge fit the space, we'd make the space fit the fridge! You will see that we built platforms to raise the entire desk 3″. The chair is still there because we have yet to purchase the fridge and I want to get to use it as long as I can.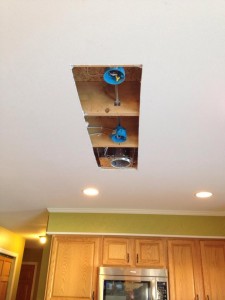 If you look closely at the photo above, you might see a few spots on our ceiling as well as a hole with a blue electrical box. I have wanted pendant lights over our island since we bought the house, but since we moved it's location – we also had to cut open our ceiling to reposition the lights. I wish I could show you a photo of that project completed, but it needs a bit more time for the mud to dry before we can hang the lights. Here's what I'm planning to hang, but it depends on how they look once they're up.
We also took down a LARGE shelf in hopes that it opens up the space even more. It's probably good that we took it down, as it wasn't screwed into anything and it was pretty big! That project is also not complete because even though it wasn't attached to any studs, it left behind some pretty big holes that needed to some mud.
In addition to painting all of our cabinets white, we're painting almost all of the rest of the woodwork too. That means I've been spending a lot of time painting doorway trim. If you look at the picture above you will see that I was able to finish all the trim (7 closets/doors) in the hallway. I'm happy to say that one more "room" is complete, but there are so many more that require taping, 1 coat of primer & 2-4 coats of paint. Boo!
Fruit people! Where is the fruit? While I wish there was more that we could actually cross off, there are two projects that we actually started & finished. Our electrician friend was nice enough to volunteer some time to help us get our lighting needs in order. Our living room has NO (yes, zero) overhead lighting. We have 3 lamps in that room and every day I have to walk around to turn them all on and then again to turn them all off.  After some electrical magic, they are now ALL controlled on a switch. That's right, now each day I can walk over and flip the switch and illuminate the world. Okay, maybe that was too strong – but trust me, this is a game changer!
Finally, the only real fruit worth showing…my brother & sister-in-law kindly bought us a housewarming gift card to CB2, which was coincidentally where we found the light we wanted for our dining room. Since our electrician friend was over, we decided to replace the old and put up our new gem. So, what do you think of our one and only grape?