Last week we celebrated St. Patrick's day. Even though I'm Irish (no clue on what percent) I didn't grow up celebrating that holiday. I mean, I celebrated in college, but I'm pretty sure there's more to the day than donning your favorite green attire & drinking copious amounts of Guinness & Jameson.
So as I was planting evidence of a sneaky leprechaun throughout our house at 1:30 a.m. the night before, I wondered how I got here. In fact when I posted the evidence of Sneaky Sam's (yes our leprechaun has a name) arrival on Facebook the next day, I caught flack from one of my most honest friends (which also makes her one of my favorites).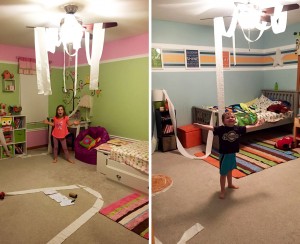 In fairness I saw the comment coming, because as I was toilet papering both kids rooms, I knew how ridiculous it was to 1) be wasting two roles of perfectly good tp and 2) to be making a mess I'd have to clean up. And even more to her credit – she knows me & knows I hate "stupid" things like that. In fact, I'm the mean mom who refuses to do Elf on Shelf.
So why did I do it and what does this have to do with keeping up?
St. Patrick's Day is just one of MANY holidays and events that have changed from when I was a kid. Valentine's Day this year did not consist of a handmade card & a piece of candy. Instead Ella got Will an oversized, robotic dinosaur. In return he got her a large beanbag chair for her room…plus the card, candy, etc.
Easter is in one week. My mom called to ask what she should get the kids! Ella wants a new bike (note: that does not say needs..it says wants). She has been told she'll have to use the money she's saved to buy it herself. When I was discussing it with my mom, she suggested maybe we could get it for her for Easter. What?! It's Easter. You get jellybeans & hunt for Easter Eggs, you do not get a $100+ bicycle.
Everywhere you turn, there's pressure to do more. Go bigger. I HAD to decorate for the leprechaun. He goes to every kids home and if he didn't pitstop at our house, the kids would wonder why it was different for them. "Why doesn't the leprechaun like us?" It's expected..and not just by our kids. Our teacher emailed a reminder ahead of time. Everyone asked our kids if they saw the leprechaun and what tricks he pulled and treats he left behind.
Right now as my aforementioned friend is reading this, I can hear her thinking something like, "life's not fair. Kids need to learn that they don't get everything they want. If you hate doing it, why do you?"
All valid points and again, things I whole-heartedly agree with (it's why we're friends)! However some battles aren't worth fighting and if it only takes two rolls of toilet paper to make our kids happy, then I'm going to do it because…it's easier.
And please don't be mistaken, I'm still not doing Elf on the Shelf, because ain't nobody got time for that!