It's that time of year again…vacation! Thanks to the help of my mom, once a year Joe & I prioritize taking a trip together, without our kids.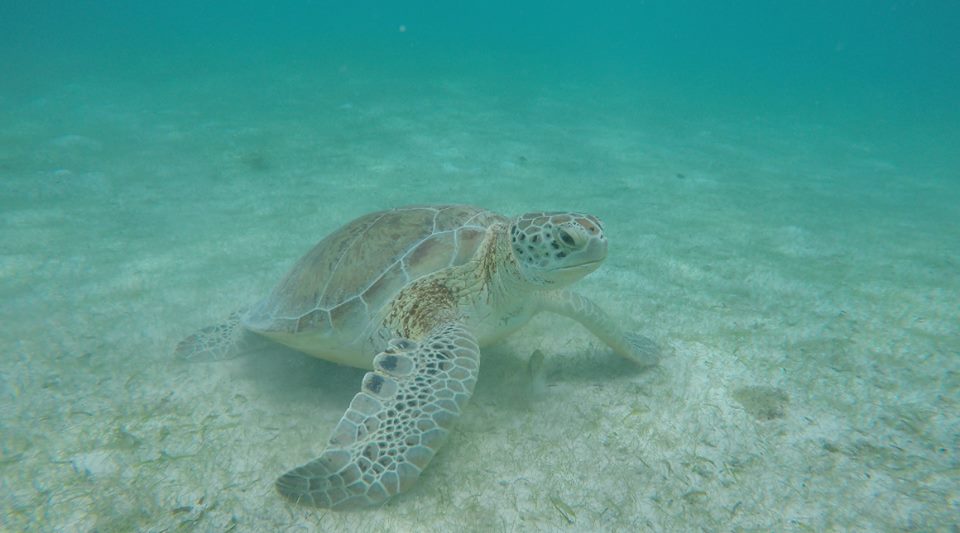 This year we chose to go to Riviera Maya in Mexico. Like other years we chose to stay at a Park & Fly hotel in Chicago the night before. This year though, we chose to pick a different hotel that's a bit closer to the airport. Driving into the parking lot we immediately knew it wasn't worth the $50 savings. When checking in they asked us to leave our keys with them for the duration of our trip, which seemed shady. As trusting Midwesterner's we ignored our gut and surrendered them. We got in late and had to be up early for our flight so we were ready to hit the hay. 
Of course as luck would have it, some people in the room immediately next to ours were there for a party. For hours we endured loud music, banging on the walls & screaming. Finally at 1:30 a.m. I decided to call the front desk, but no one answered. Luckily, it was due to the fact that the staff was on their way to kick our neighbors out. Through our peephole, we counted 35+ people that filed out of the small room. 
Not the best start, but luckily it didn't set the tone for our trip. We had a direct flight and all went smoothly, landing us in Cancun by noon. We arrived at our resort, Secrets Silversands and grabbed a drink while we waited for our room to be ready. It was exceptionally windy the entire time we were there, but the weather was the worst on the first day. We had dinner at Himitsu and ate some of the best sushi I've had in a long time. Every night there was live music after the nightly show & the singers the first night were phenomenal. Unfortunately it began to rain so they had to stop after 30 minutes, but that didn't stop us from sitting in the rain until bar time.
On day 2 we laid low & visited the excursion desk to plan out our trips & spent the remainder of the day drinking in the pool. It was very cloudy so I was cold a lot of the time, but it still beat Wisconsin. In fact when we talked to the kids they informed us it was snowing & sleeting. We had the best of intentions on having dinner with a Canadian couple that night but after a long day of drinking in the pool, we fell asleep before making it out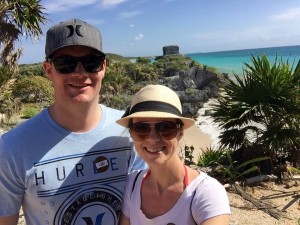 Day 3 was the first of our excursions and an early start to the day. Joe loves history so we booked a trip to Tulum to see the Mayan Ruins and afterwards, we swam with sea turtles in Akumal. Our tour guide, Uri was amazing and he spoke four separate languages and translated everything he told us in English & French (he also speaks Spanish & Russian)! The ruins were amazing to see & the views of the ocean we're irreplaceable. On our way out we ran into the Kennedy's, who were staying in Cancun. If we weren't in Mexico, I would have bought a lottery ticket because the odds of that happening were slim to none. Such a small world we live in!
After the ruins we packed up & headed to Akumal "Place of the Turtles" to swim with the turtles. We didn't know what to expect, but were delightfully surprised as we saw over 20 turtles, 2 stingrays & many other fish while snorkeling. You're not supposed to touch the turtles, but a baby kept swimming right next to me that it was hard to not run into it. We also saw another turtle with a fish suctioned to it's shell. Uri called it a parasite, but assured us that it didn't hurt the turtle. 
After snorkeling we had a local lunch at a beach clubhouse and I had two of the best margaritas I've ever had. It was a great day! We got back in time to sit in the pool for a little bit and made plans to eat with yet another Canadian couple that night. We did make that dinner & my Shrimp Ravioli was to die for. 
Day 4 was our next & last excursion where we visited four types of cenotes. Our first stop was The Fire or 'K'aak' cenote where we zip-lined into the water and swam to a cliff to jump from 30 ft high. The water in all the caves are fed from underground rivers, so everything was very clean, but also pretty cold! Our next stop was The Earth or "Lu'um" cenote where we rappelled into fresh waters. This was by far our favorite. We hiked up the trails and arrived at a platform. Our guide, Pedro – who was also super friendly & awesome – didn't really setup (I think on purpose) what we'd be doing at this stop so when we climbed to the top of the platform, we saw the most amazing view. There were zip lines running straight down into a cave & that was the only way in. Our next stop was The Water or 'Ha' cenote where we were able to snorkel and see the rock formations and incredible underwater lillies. Our last stop was The Wind or 'Iik' cenote where we ziplined 300 yards across the open water at 60 ft. high.
Day 5, our last day – we had originally planned to go into Playa del Carmen, but later chose to stick around the resort & relax before leaving. We went to the beach, Joe snorkeled in the ocean, picked up the kids souvenirs & swam in the pool the remainder of the day. We met a very nice couple from New York & had the best French onion soup I've ever had at dinner that night. We had a 4 a.m. wake up call, so we made it in early night, packed our things and headed for home.
For once the travel both there and back went very smooth and were sort of uneventful. We made it home on time to watch the Badgers lost to Notre Dame for their chance to make it to the Elite Eight. Not the ending we were hoping for, but we were happy to get to see it.
Raising kids is hard work. Life is busy and it's so easy to not prioritize the things that matter the most. Our annual vacation sans-kids so important for the health of our marriage and I hope we continue to prioritize these vacations until death do us part.