Today is my first day of unemployment, but don't worry it won't last long as I start my new gig on Monday as the Corporate Director of Marketing & Sales at First Supply!
Almost 7 years ago, Joe & I were still living in Eau Claire when he randomly said he wanted to move to a bigger market. Obviously we weren't going to choose Minneapolis – we're Badger/Brewer/Packer fans and there was no way we could live amongst the Gopher/Twins/Vikings. So we set our sights on Madison and started searching for jobs. Luckily I came across a random Craigslist posting for an entry-level Project Coordinator role at a little place called Kennedy Communication's.
I got a call for an interview, but  since it was a Craigslist ad I wasn't quite sure if the agency was legitimate or not.  At that time there was no website to learn more, but I figured – why not? I had a great interview where we talked a lot about my prior experience at a web firm and I got a call the very next day. The offer was surprising though – they wanted me to help build a web department to service their current clients. I asked what the role entailed and the response was, "we have no idea – but if you can let us know your decision this week, I'll throw in free Badger tickets."  Obviously, the choice was clear (see: Badger fan comment above). I packed up my stuff and moved to the big city. Unfortunately Joe hadn't lined something up yet so I went alone!
It was a risk but it was the best one I have ever taken and I can't believe how lucky I am for finding that role! We did build a department, in fact we were so successful that we formed our own company – Kennedy Convergence, solely dedicated to the web initiatives for our clients. It started as a team of 2 and grew to almost 10!
The entire agency has grown. I was the 12th employee hired and today there are 25 awesome people… I can't say enough about great things about the people. When we moved here, we knew very few people and had our family several hours away. We've made so many very close friends because of Kennedy. Some have come and gone but I will have a special place in my heart for every.single.one. Yesterday I left behind my second family, but only on Mondays-Fridays from 8 to 5!
This hasn't been just a job for me – we really are a family. That means so many things including respect, loyalty, laughter, FUN and being extremely honest with each other. I experienced all of those things while at Kennedy. Those people truly know who I am. They've stood by and supported me through so many major life events ("she had a baby, got married and had ANOTHER baby!") They're always welcome in my home and I would do anything for them – I owe them!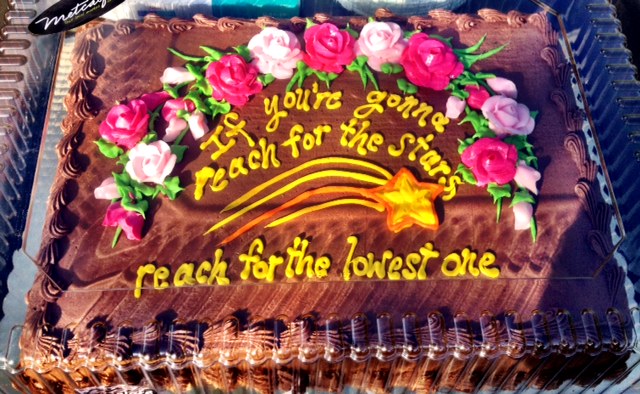 Last week they threw me a going away party and kindly brought a cake that included a sentiment only they could come up with, "If you're going to reach for the stars, reach for the lowest one!" They also left me with the absolute best parting gift a girl could ask for – a photo album full of memories that we've all made together. Happy hours, Badger bashes, weddings, Brewer outings, travel trips, charity events, work celebrations, Halloween costumes, volleyball nights and "normal" days in the office. It might be the best, most thoughtful gift I have ever been given.
They also gave me a card that read, "Work Hard. Be Honest. Have Fun. Dream Big. Laugh Often. Be True to Yourself." I  promise to always do those things and hope the same for everyone at Kennedy!