As August comes to a close I finally realize that we need to mentally prepare ourselves for school. Yes, that's right – one week from today Ella will start school. Today we met her kindergarten teacher and went through what to expect for our first day. I guess I thought it wouldn't be a big deal since we've been dropping her off at daycare since she was 6 weeks old. Nothing changes, right? Wrong!
Ella has been pumped for this new adventure. She is excited to make new friends and really excited that there is no more nap time. However, after we left her new classroom this morning she asked me why the play areas were so small and there weren't many toys. Even though we go to a curriculum-based daycare full of tons of opportunities, I had to explain that school is all about learning and that there would be far less time to play.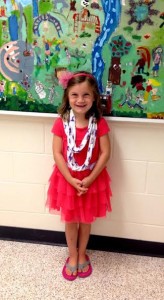 She wasn't thrilled with my answer and I think it's safe to say her level of enthusiasm diminished a bit, which is not great. You see – school is either going to fall into the S U C K S or S A V E S category and I was really banking on the latter. At this point, those three tiny letters hold the only hope we have for sanity.
Once again, we've ran into behavioral issues (I'm currently reading: Raising Your Spirited Child) at daycare and that typically means she's bored or not challenged and is ready for something new. We have tried almost every parenting tactic and employed negotiation skills that even the best salesperson would be envious of and …nothing! Seriously. Not a single thing works on this kid. There is no reward system, positive reinforcement or threat that has an impact.
I'm hoping that her new school setting will SAVE us and provide a lot of things, really. I'd love a classroom full of kids where just one might have a larger personality than her. It would be good for her to not always be the ring leader and at the same time it would be nice for her to befriend someone with as much energy & enthusiasm as her. I hope that learning to read & write, amongst a ton of other new opportunities, will challenge her and keep her attention focused. My last request is a selfish one – I hope public school allows us to meet more parents like us. Not only would it be nice to meet some parents in our age bracket, but we'd also love to know more that share our parenting style. Very simply said, we don't coddle our kids. If they fall, we expect them to get up. We don't talk to them like they're babies and helicopter moms would gasp at my lack of sensitivity. Don't get me wrong – I am not judging other parents and their styles, but instead simply stating that it would be nice to know we're not alone.
While I'm unsure if my wishes will come true, one thing I can guarantee – school will change our lives! Drop-off, pick-up, vacations, daily routines, free time, etc. Those things aren't a big deal and I'm confident that we can adjust, but my bigger concern is that school will inevitably change Ella. Right now, even though she acts like she's 15, she still thinks I'm super cool and wants to hang out with me. It's only a matter of time before she thinks I'm lame and will opt out of our girl time to hang with her friends. She's also been in the same, safe, monitored, controlled environment her whole life. This will be her first exposure to the big, imperfect world in which we live. This is where we enter the very real possibility of bullying, especially considering her cleft.
It's true that she challenges me daily and while I want her to behave, I never want her to change. Her large, confident personality is a part of what makes her so special & I will do my damnedest to protect her from possible insecurities that can so easily creep in. For now I can only hope that we have instilled enough strength & bravery to allow her to take on this new adventure and if possible, come out an even stronger kid. Wish us luck and happy school year!